SNK nos sorprende con el anuncio de que Blue Mary llegará a The King of Fighters XIV como un DLC este mes de abril, y han publicado el primer tráiler donde podemos verla en acción.Llegará junto a Oswald, Heidern y Najd, que ya estaban anunciados, lo que ampliará la plantilla de personajes a un total de 58 una cifra increíble superando con creces al Street fighter v.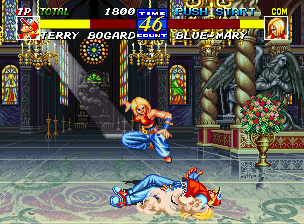 Blue Mary debutó en el ya mitico Fatal Fury 3: Road to the Final Victory en 1995, y luego ha sido un personaje habitual en la saga The King of Fighters.
Además, SNK anunció que la actualización 3.00 para The King of Fighters XIV se lanzará "Proximamente". Además del soporte para estos cuatro nuevos personajes, esta actualización incluirá también distintos ajustes jugables y mejoras.